Abbracadabra: The Life Transforming Magic of Triangle Tattoo and Museum
This Article Originally Appeared in the November Issue of Real Estate Magazine
Abbracadabra: The Spellbinding Tattoo Culture of Mr. G and Madame Chinchilla
Esther Liner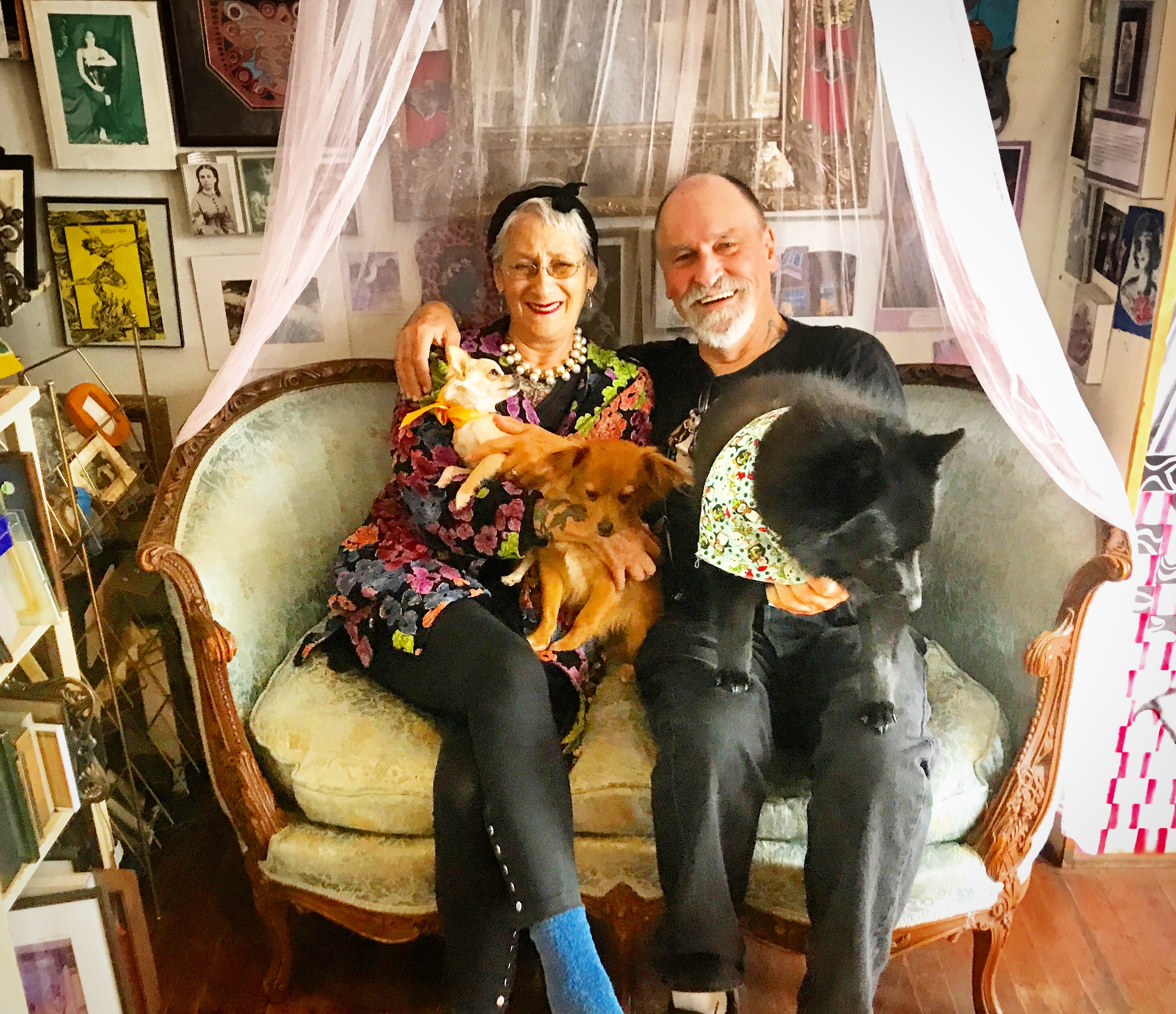 There's a saying about life on the Mendocino Coast: "You don't choose the coast, the coast chooses you." If this place wants you, if it has use for you, the people open their hearts and hearths to you. Work finds its way to you. Doors open, and a path for you is lit, even if the way is only clear one step at a time. In exchange for such gifts, the coast asks this in return: Serve its people, remember what it was to once be a stranger, and remember that all of us are travelers in this life, just passing through. Tattoos are one way of marking this passage. Our ever-changing skin becomes a biographical road map. Symbols mark the flesh as visual reminders of the people and places we carry with us and have had to leave behind, the selves we were and the selves we are becoming. Ask any sailor who's been drunk, on gin or love: Some of us stay in one place longer than we had intended. We sometimes we find the fortune we were seeking not in the place for which we had charted course, but in the places and people we found along the way.
For thirty-two years Mr. G and Madame Chinchilla have been welcoming travelers into Triangle Tattoo and Museum (356 North Main Street, Fort Bragg, California) as though they were good friends they simply hadn't met yet. One of a handful of museums in the world dedicated to the history of tattoo, "Ours isn't the biggest collection, but we share with others what we've learned, and what we have," says Mr. G. The two became tattooists in the early 1980s, when it was still considered the territory of misfits and outlaws. In their dedication to their craft, they have become curators and authors. The two are a pair of hands—holding back the veil into the mystical and taboo world of tattoo, shining the lantern on the greats who have come before them, and illuminating the way for a new generation of tattooists and initiates into what Mr. G reckons is "perhaps the oldest ritual on Earth."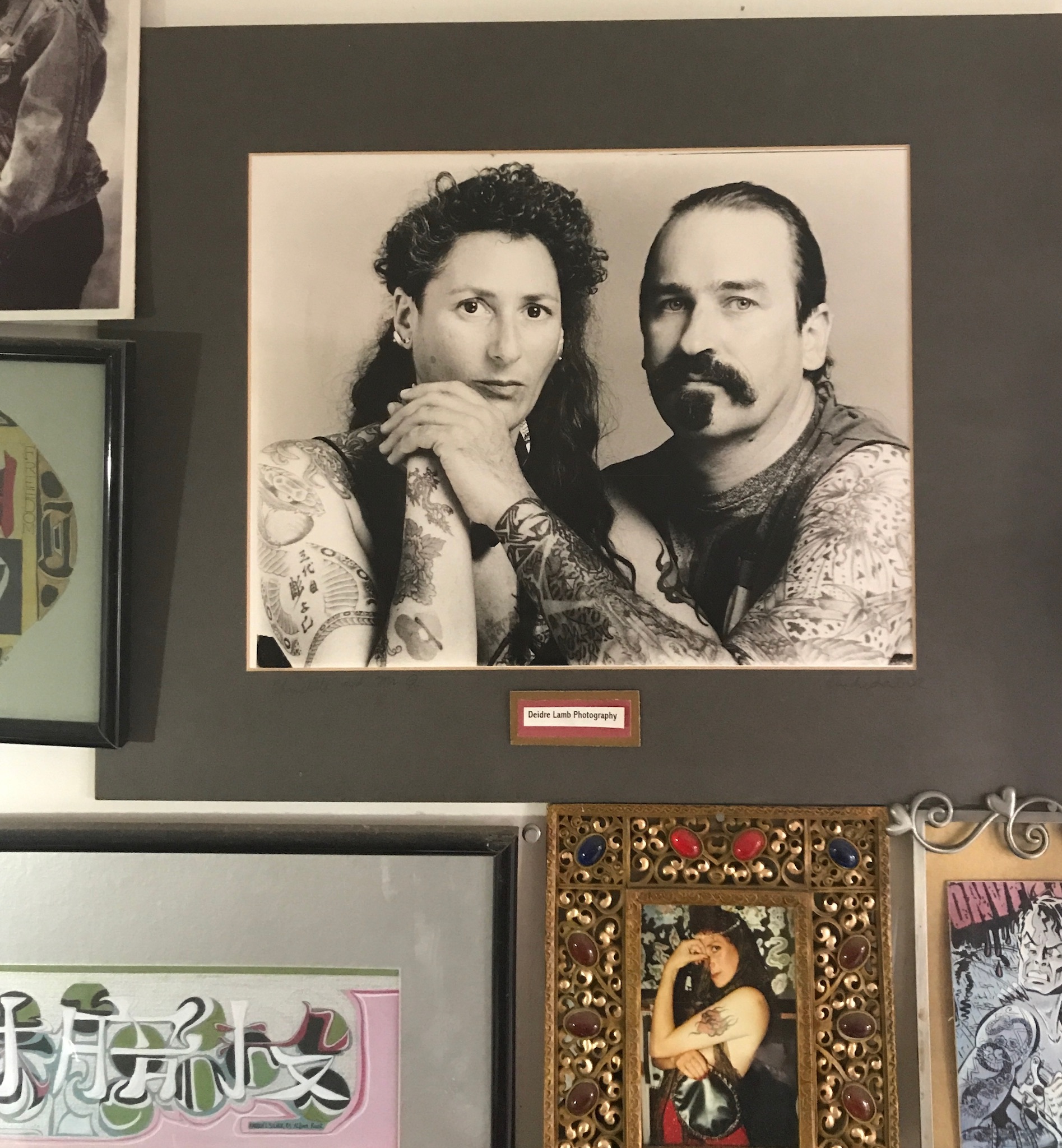 Madame Chinchilla and Mr. G were once strangers, to each other, and this coast. "The first time we met, we were naked," Madame Chinchilla says smiling slyly at her partner. She looks at him like he hung the moon. Mr. G, sixty-seven years old, catches her look and his bright blue eyes light up with the mischief of a school boy about to say something naughty at show and tell, that will piss off the teacher but wow the class.
Mr. G: "It was in a hot tub in Albion!"
Madame Chinchilla: "On H Road!" 
Mr. G: "You know the one?"
Under starry skies, through steamy waters, these two first laid eyes upon each other. Mr. G—then thirty-six years old, a high rise construction worker, coming off of a run of bad luck in Seattle—was hell-bent to go raise Cain in Nevada. He just needed to drop in on some friends in Albion, California first.
Madame Chinchilla, then forty, was an artist and writer, "a bit of a hippie girl," as G recalls. Madame Chinchilla was no more looking for trouble in that moment than Mr. G was looking to change his course. But like the copper coil housed in an Edison-style tattoo machine, called by some a Magic Wand, there was (and still is) powerful creative electricity between them. Upon contact it coursed through them, then put them to work, immediately. They were just two months into their courtship when the inspiration for what would become their life's work struck. They would marry their fates, change their names, and be born into their new lives together: Mr. G and Madame Chinchilla, Tattooists.
Madame Chinchilla: Oh it was all Mr. G's idea, I was adamantly against it at first.
Mr. G: I didn't want to start over in construction here, and I knew I wanted to do something more creative with my life.
Madame had had artistic leanings since she was a child, often painting and drawing as a means to escape a painful childhood illness, a talent that she has carried with her into adulthood. Mr. G's mother had been an artist as well, painting oral flourishes on porcelain, handing him little "drawings of Bugs Bunny and stuff, for me to color in" while she worked away.
"I always knew I liked art, I just didn't know how to make a living at it. Then I thought of this old tattoo artist who had a shop at Pike Place Market [in Seattle], did pretty good for himself and thought 'Why not?'" Although tattooing was a tight-knit world to break into at the time, a mentality of scarcity and fear of competition often running the game, the two managed to find an apprenticeship with Bert Rodriguez. They befriended San Francisco based artist Lyle Tuttle, known for his traditional sailor style and having tattooed stars like Cher, The Allman Brothers, and Janis Joplin.
When their apprenticeships were complete, they set up shop first in a 1953 Airstream trailer which they took with them to bike runs, music festivals, and art fairs, trailed behind their pink 1966 Cadillac. They would then set up shop on Laurel Street [Fort Bragg, California] in 1986, and have remained at their current location on Main Street since 1991.
As Triangle Tattoo found themselves expanding, so did their collections of tattoo artifacts—custom made and antique machines, prison rigs, photographs, biographies, ash art, and instruments like chisels and styluses from before tattoos went electric. They decided to start a museum. "A lot of the stuff we have has come our way I think because people know we're not about the money. We're about telling the story, preserving the art form. People have entrusted us with these precious heirlooms, and in turn we share them with the public," says Mr. G. Admission is free to the public, although if one feels compelled, as one should, they may leave a cash donation for the upkeep. Madame Chinchilla has published four books on the subject of tattoo: Stewed, Screwed, and Tattooed; Electric Tattooing by Women 1900–2003; Electric Tattooing by Men 1900–2004; and a loving biography of their dearly departed friend and tattoo artist, Captain Don Leslie, Sword Swallower, Circus Sideshow Attraction 1937–2007. Mr. G has written dozens of articles through the years for publications like Skin and Ink Magazine. They have been guest speakers and artists at tattoo conventions around the country, recently Sonoma County's "Tattoos and Blues."
Walls of Fame
Like a tattooed lady in a circus sideshow most every inch of wall space in the Triangle Tattoo Museum is filled with art. The walls along the painted red staircase are lined with photographs and flash art of military men and their tattoos circa WWII. There's an exhibit about Maori people and their traditional "ta moko" facial tattooing. There's a collection of traditional Japanese hand-tap instruments, photos of the Japanese masters, and special examples of their work. There's an exhibit on the role of tattoos in carnival and circus sideshows. In fact Mr. G and Madame Chinchilla were artistic and historic consultants on the subject for the HBO Series "Carnivale." The women's wall, features tattooed women and their stories from all eras. There are also the retired ornate costumes of their late beloved friend Captain Don Leslie the Sword Swallower.
You can feel the buzz and crackle of the stories these artifacts tell, have in fact told on countless people's skin, just as sure as you can hear the faint hum of the rotary machine in resident artist Niki Needle's hand in the tattoo parlor adjacent. It is doubtful that a visitor could take it all in a hundred visits, but even a single visit can unearth something magical and new, for both guests and its curators alike. You never know when a question a visitor poses will send a cascade of memory tumbling forth in the mind of Mr. G or Madame Chinchilla, like a long-forgotten book off the shelf.
Niki Needles, who at age thirty-four has been practicing tattoo for seventeen years jokes, "I swear to God, y'all are so friendly here in Fort Bragg, I thought at first I was going to wake up one morning in a bathtub of ice with a kidney missing." It's true—proximity and accountability means coastal residents can afford to be kind. Good luck acting an ass at Purity Market or the bar without word making its way round town before you can get to your car door. Most of us have taken our turn in the town pageant playing the sinner and the saint. Like the folks in small towns that circuses and sideshows used to roll through, at times we can be a bit starved for novelty, new stories—new chances to be naughty or nice. We listen, ask questions, split our sandwiches with you, and give directions without having ever quite learned all of the names of our streets (West to East is trees, North to South is old dead white dudes.) To residents of The Rest Of The World, all of this friendliness and curiosity can be off putting. But if you don't stuff your pockets with all the free candy you can and run, if you stay, decide to help out, you may just wake one day to find this place has opened itself to you and become your home.
Mr. G and Madame Chinchilla have exhibited much of this same good faith and openness to visiting artists through the years. Of course, some people not knowing any better have taken advantage of their kindness. "They've acted entitled, and tried to build their name on the shoulders of giants, without having properly paid their dues," Niki says. But there are others for whom being shown the couple's love, acceptance, and trust have experienced deep transformations in their sense of self. "I'll tell you what, every single moment of struggle I experienced in tattooing was worth it, because it eventually lead me up these red steps, and to Madame Chinchilla and Mr. G," resident artist Niki Needles says. "It's an eerie feeling, to walk into a place and feel that you are home. Home is supposed to be your mama's house. It took me a minute to make peace with it." Introduced to the couple through friend and colleague Kyle "Chisel" Nelson, Niki found herself visiting Triangle as a guest artist frequently, until in the summer of 2016, upon Mr. G and Madame Chinchilla's invitation, she moved from Oroville to the Mendocino Coast. She has been with them ever since. She says she feels humbled that the couple has taken her in like family. In turn, she takes her responsibilities at the shop with a samurai-like seriousness—death before dishonor. Niki studied Bioethics in college, the values of which she shares with her mentors. If something is worth doing, it's worth doing right. If you are going to mark a person, permanently, do it with integrity, quality, and care. Honor your craft. Honor the sacred bond of a stranger plac- ing their trust in your hands. "I spend a lot of time correcting work that people got done in slap dash manner, by someone who clearly didn't care about the person, because hey, they're just passing through."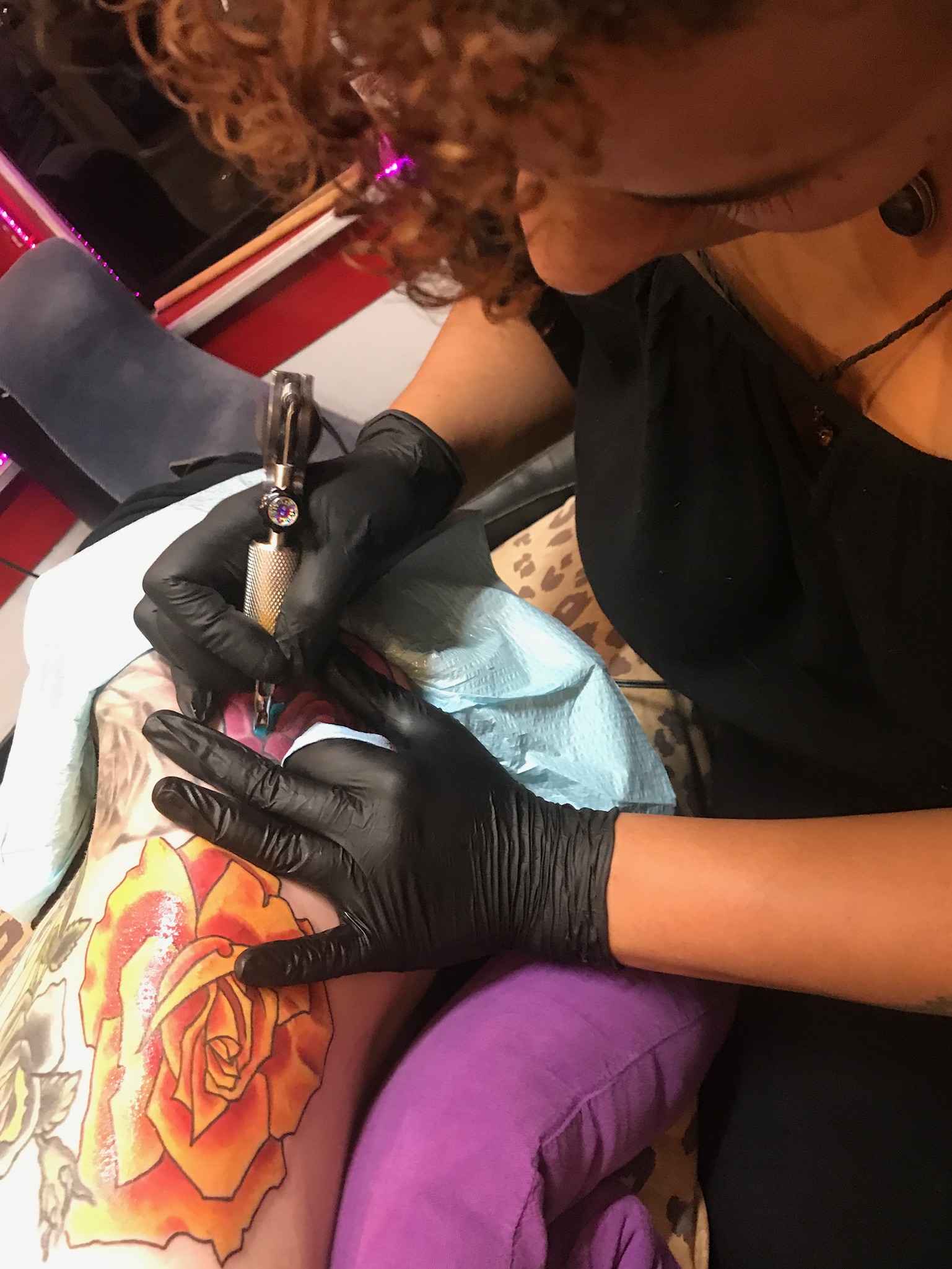 Upon my request Mr. G (with the assistance of Madame) drops trou and shows me on his leg, the first tattoo Madame ever did. It is hard to believe the tattoo is over thirty years old or that it was her rst, its colors are still so vivid, the line work ambitious; a bright yellow tiger, lime green cobra, and an orange and green dragon jump off of Mr. G's skin from a robin's egg blue background. Chinchilla in return asked Mr. G to do a piece called "The Cosmic Embrace," a naked woman and a skeleton stand entwined as lovers down the center of her back. "It was supposed to get me over my fear of mortality."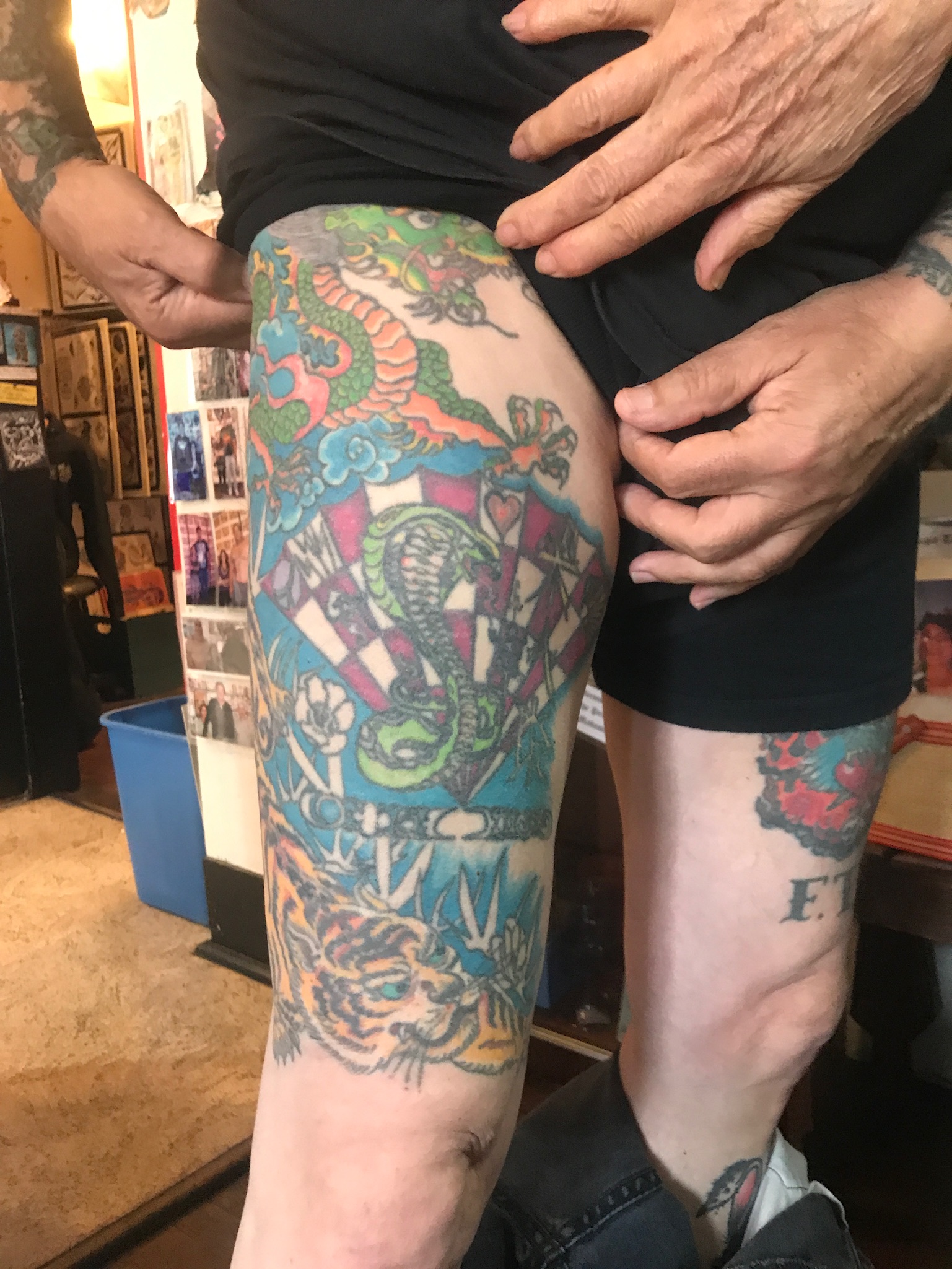 She says it never actually worked until last year, when upon the occasion of her seventieth birthday she learned she had breast cancer. As anyone who has been through chemotherapy and radiation can tell you, what followed for her was a year of hell. Pain and illness that left her so weak she at times couldn't speak. She lingered somewhere between the land of the living and the land of the dead. But she came through. Radiant and feeling better now than before, she says the gift of having danced, like the woman on her back, with death, made her no longer afraid. "I know now death is nothing to fear, it's just another stage of the soul's journey." Madame Chinchilla was amongst the first tattooists to adorn women's mastectomy scars with breastplates of flowers and ornamentation. She has now joined these ranks of women warriors, survivors.
Tattoo Medicine
"Remember to let her under your skin, then you begin, to make it better."
—Paul McCartney,"Hey Jude."
Although receiving a tattoo can be an intense experience, for many it's a form of emotional release. Tattoos are medicine, working on both a physical and, for some, a spiritual level. Like eating habanero sauce, or really good sex, when a person receives a tattoo, pain killing endorphins, dopamine and adrenaline come flooding out in what many describe as a "rush." Others describe finding themselves in a transcendent state, as in the instance of sitting through a long session, like getting a full-arm sleeve. They find a way to rise above their discomfort, to go with it instead of fighting it. This triggers a healing response in the body that can also have emotional benefits. Elyse Brumbleloe, who has worked as a "shop girl" for Triangle Tattoo says that through her tattoos she has found an inner strength and confidence she never imagined possible. On her right arm she bears a sleeve that she and Mr. G planned together, a raven-haired woman with locks swirling in the wind, twirling storm clouds, accented with hopeful red-orange poppies. She chose to get the piece during an extremely difficult era in her life that she knew she needed to release, but was having trouble letting go.
"It's a reminder to myself every day of what I have survived and how I am stronger and more self-accepting because of it. When I look at it I also think about how Mr. G and Madame Chinchilla showed me such love and really helped me to heal during that time. When those two let you into their hearts, you are there forever."
Ms. Brumbeloe continues, "You've got to own your tattoos you know? Just like you've got to own who you are. Not everyone's going to like your tattoos, not everyone's going to like you. That's okay. My ink is for me. It represents self-acceptance. I love my tattoos and the stories behind them."
 
Sleeping on Needles
Tattoo artist Kyle "Chisel" Nelson says that meeting Madame Chinchilla and Mr. G for the first time changed everything about the way he thought of the art of tattoo. He'd been practicing tattoo for twelve years before visiting them in their shop. He brought them a photo of their recently and dearly departed friend Captain Don Leslie, clipped from the Chico News and Review. Mr. Nelson had known Captain Don too, had in fact received a tattoo from Mr. Leslie on his deathbed.
"Standing with them in the museum, it was the strongest I'd ever felt what they call the Tattoo Magic. It was like Mr. G held the magic wand and Madame the broom. They've got it. That rock'n'roll. They've just got it."
Mr. Nelson continues, "These days the tattoo community is huge, but there is an inner circle that is about holding onto that last bit of the Old World magic, and Mr. G and Madame Chinchilla are heavy hitters in that world." He says he realized in the presence of their expertise and collection, that he'd barely scratched the surface of tattoo traditions. For instance he'd always thought of tattoo as a masculine art. He was surprised to learn that centuries before tattoo caught on in Europe, Maori tribes women in New Zealand were the ones to administer traditional body and face tattoos, called ta moko. The women used chisels made of bird bone and mallets to adorn the skin of both men and women with natural pigments. This blew his mind. Chisel has made its way into his tattoo name or handle, perhaps as a reminder that as an artist and a human, there is always more to learn.
"They were so welcoming and kind. I don't get that all the time, you know, I'm this big guy who's heavily tattooed, I've got tattoos on my face." With the voice and build of a grizzly, but with an aura that is a little bit Elvis and a whole lot of teddy bear, Kyle Nelson may not be as tough looking as he thinks. Still, there are some who can't get past their biases. While tattoo has made its way into the mainstream over the past thirty years, face tattoo, though more and more common, still remains on its fringes. It's got a certain je ne c'est "Eat My Shorts" to it, which may have been exactly what Kyle Nelson, now age thirty-eight, was thinking at the age of twenty-one when he got them.
"I was the first person that they ever let do a guest spot who had tattoos on their face." He says that being accepted by them and earning their trust as a guest artist, changed the way he felt about himself.
"I'll never forget Madame Chinchilla inviting me to do what she calls 'sleeping on needles.'" A phrase from old timers who both lived and worked in their tattoo shops, Madame invited Mr. Nelson to sleep over in Triangle Tattoo and Museum. 
"I could sleep anywhere I chose. I chose her studio. It's the most feminine place in the world. I don't mean weak, I mean powerful. I mean come on, a world famous female tattoo artist, with beautiful art all over the walls, it's got the Wall of Women exhibit, and I'm there sleeping on that delicate little antique love seat she's got, overlooking the ocean."
Like tattoos, trust can have a radically transformative effect on people. It is humbling to be let into a person's inner circle. It can build your confidence to know that people see something in you that is lovable and worthwhile. If the flipside of cockiness is insecurity, then the other side of confidence is to be humble. Kyle Nelson says he walked into Triangle Tattoo and Museum cocky and he came out humbled.
"Before, I just tried to do things my way, throw my style into what people wanted. After spending time at Triangle, my style became more structured, I dedicated myself to the practice of more traditional tattoo." In Western parlance, traditional tattoo is the style popularized by sailors in the nineteenth and twentieth centuries.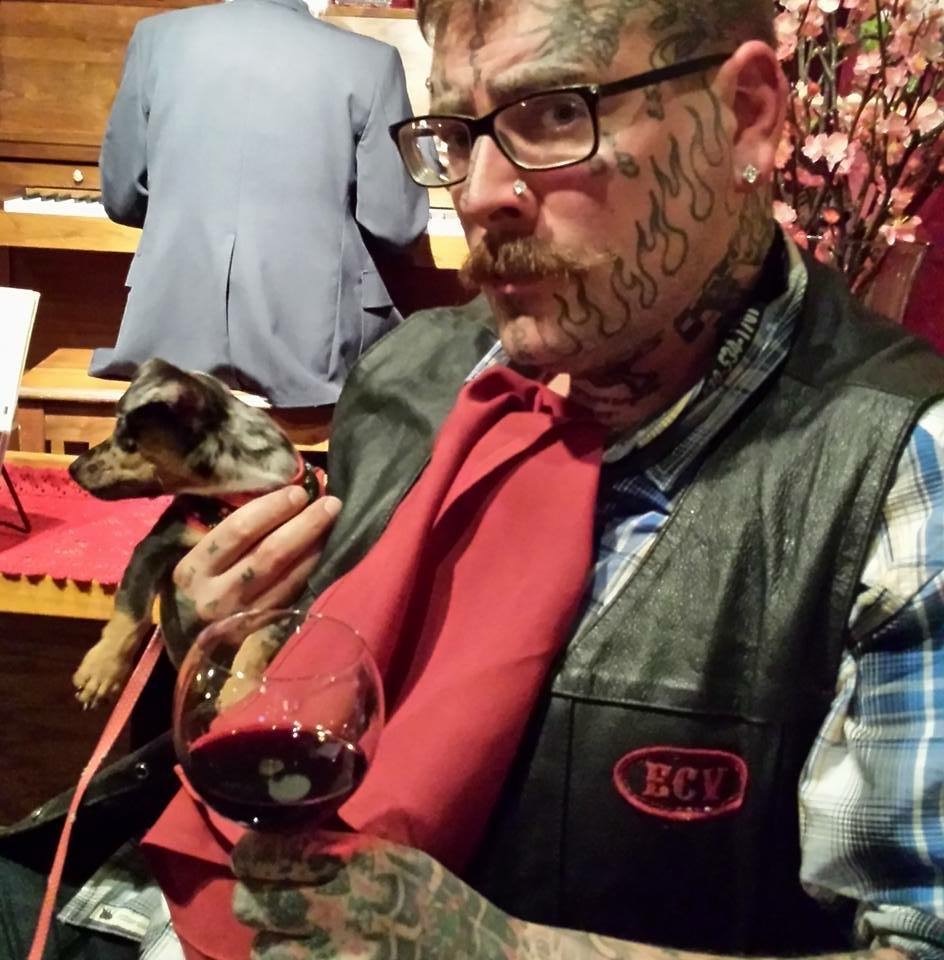 The Question of Perfection
The funny thing about humans, artists in particular, is that they are at once obsessed with perfection and tortured by its unattainability. Madame Chinchilla says if there's one thing she cannot stand is when people want a tattoo to be perfect. "If you want perfect, then go get tattooed by a robot. Perfect leaves no room for the creative spirit to come in. Life isn't about being perfect. We aren't here to do things perfectly. If we were, we'd never learn, and what's the point of being alive if you're not learning?"
Without tedium how would we recognize excitement? Without pain, how can we know pleasure? Without having screwed up royally, at least once or twice, how can we recognize our triumphs? Tattoo is the art of embracing human imperfection. It's the recognition that life is at once messy, painful, beautiful, and brief.
Perhaps the secret to a long and passionate affair is to never get officially married. "Mr. G still introduces me as his 'date,'" says Madame Chinchilla. They keep separate work spaces and tattoo each other regularly. Tattoo has been the third entity in their relationship right from the start, forming a triangle that's been like the tip of an arrow, guiding them forward. 
Triangle Tattoo and Museum 
356 North Main Street, Fort Bragg, California | 707 964 8814 | triangletattoo.com